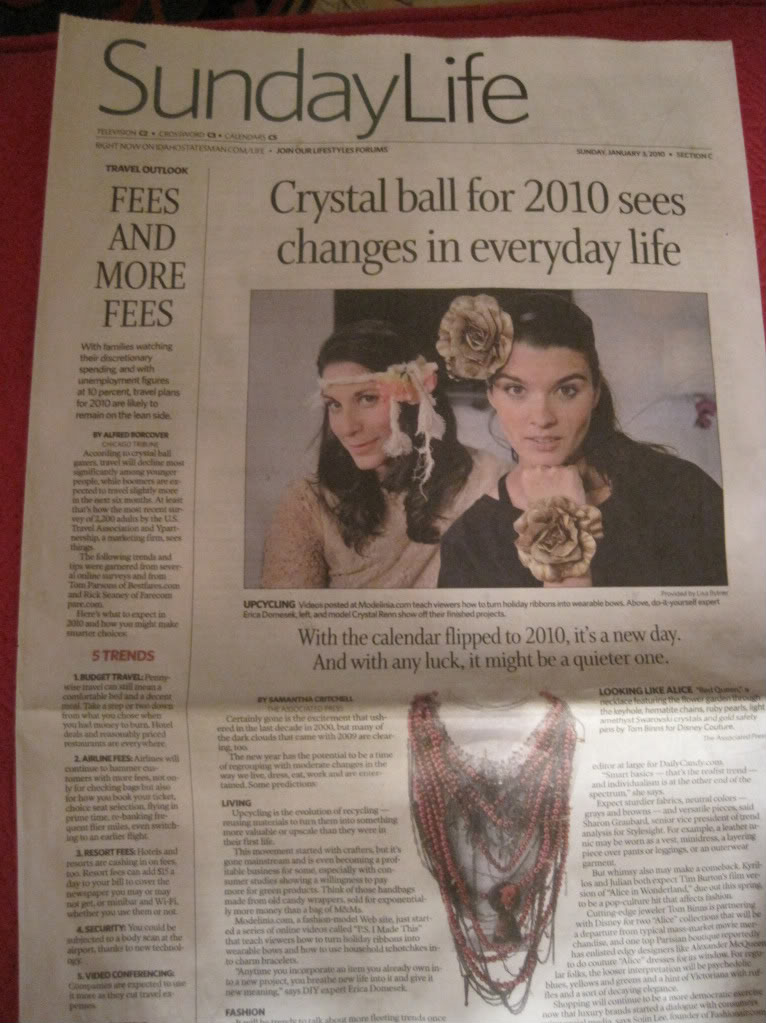 Since being in Idaho for the holiday I've been keeping a keen eye on the fashion and internet influence in what could be considered "Middle America".  From working at Cosmo, we always tried to figure out how the other world (and by other world I mean outside of NYC) lives, shops, is influenced, etc and at times, it was challenging.  Because in Boise, there is no H&M; and wool snow overalls are favored over sequins.  I was about to give up on wondering if the internet was changing the way people perceive and embrace fashion everywhere, until I came across the Sunday Life section of the Idaho Statesman Newspaper.  
I was intrigued by the image of plus sized model of the moment
Crystal Renn
and Do it Yourself expert Erica Domesek from
PS I Made This
that graced the front page cover.  The caption read: "Video's posted on Modelinia.com..."
Even more intrigued I kept reading.  The newspaper went on to quote sources from
DailyCandy.com
,
Fashionair.com
and
Stylesigh
t.  No print editors or buyers were quoted on this story.  A lot of talk has been going around about major newspapers sort of being a little slow to embrace the bloggers, online retailers, and basically anything online, but low and behold, the Idaho Statesman accurately predicts that "a hint of Victoriana ruffles" will appear in collections.  Ironically enough, a well known designer just told me that the theme for his Fall '10 collection will be Victorian.  Granted, this article was pulled from The Associated Press, but it still says a lot that readers are being exposed to the newest reputable sources, which are now online players instead of big time Buyers.
In no way am I discrediting any news source outside of New York or a major "Cosmopolitan" city, but I found it so fascinating that the newspaper thought this would be vital information for their readers, who can't even find an H&M; anywhere in their vicinity.  Perhaps they are shopping online? Using Polyvore? Posting to Chictopia?  Logging on to PS I Made This and, yes, making their own runway fashions.  
This is exciting for several reasons, but mostly because online media is reaching every single corner of the material world and people are interested.  Might be beating a dead horse here, because yes, we all know these changes are happening, but to step outside the New York bubble and still see it is really exciting.
Here's to a great and exciting 2010!