There is something so prairie about this outfit and the fact that it is in a setting that is completely opposite of that makes these photos more interesting. The rope belt is from a Phillip Lim sample sale and helps nauticalize (totally just made that word up) the outfit.
It's hard to tell in the picture, but these shorts are actually black suede. Spring is all about wearing unexpected fabrics like suede and leather. Leather shorts (relaxed fitting) are a staple for the next couple of months. The great thing about these suede shorts is that you can take them into fall by layering a cute pair of tights with them.
Australia has some of the coolest clothing lines... One of my absolute faves is a line called Lover. They somehow manage to make clothes that are quirky, ladylike, really cool, and classic all the same time. I wish I met them while I was here but I just ran out of time! Regardless, their style influenced my outfit in today's post..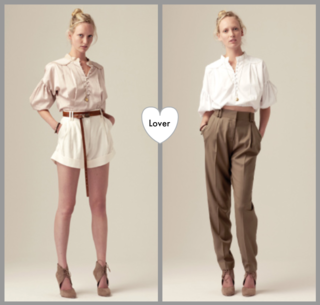 I can't wait to post the pictures from the Sunsilk/Opera House event today! The architecture in the Opera House is really awe-inspiring and could be the best picture backdrop. Hopefully I can get them done before I board a plane for 2 days...
xoxo,
SG