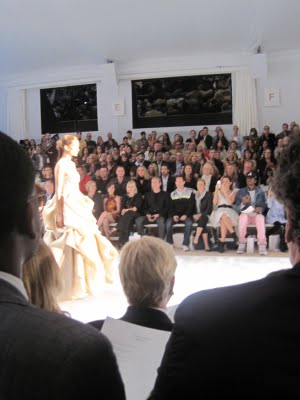 Christian Siriano's show was one of my favorite shows this season so far.  It was the first show I had been to that people clapped on the first look out and yelped and clapped at the end when he sent down 3 fierce gowns.  It was a celeb studded front row as well.  Kelly Rowland, Tori Spelling, Veronica Webb, Time Gunn, and Alessandra Ambrosio were all present despite the rainy weather.
 Christian's collection was inspired by Mediterranean travel.  Nudes and khaki colors started out the collection and transitioned into blues and oranges.  The repetitive print of the show was an aerial photograph of the Italian coast line that was modified and saturated with such colors and almost resembled marbling.  The shoes and bags are all for Payless, but seamlessly fit in with the expensive looks that they accessorized.  Christian teamed up with Payless for the third time and created the most amazing strong shoes with bull horn heel and fringed bags.
My favorite looks were the gowns at the end which no doubt everyone could see shimmying down the red carpet at the Oscars.  Rachel Zoe would die for them and like she would say: He shut it down.
xoxo,
SG