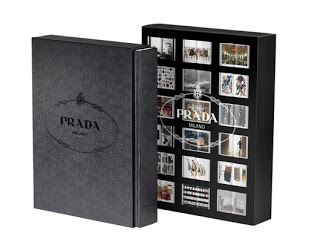 Somehow I feel like everything fun that I see in the next couple of months is going to land on my Christmas list.  This is no exception.
Miuccia Prada and Prada CEO Patrizio Bertelli are unveiling a 706 page book that focuses not only on the innovative fashion that has come out of the legendary house, but their experiments in art, architecture, cinema, and communications.  And if you've ever seen some of Prada's concepts for their stores, you know that there must be some amazing archives of inspiration hidden in this book.
It retails for 100 Euros (or around 148 dollars today, sadly) and will be available worldwide online, in bookstores, and in Prada stores of course.
And speaking of Holidays, Lara Stone nabs the cover of Vogue UK in what looks like a super dreamy issue filled with things I can't afford, but still will lust after.