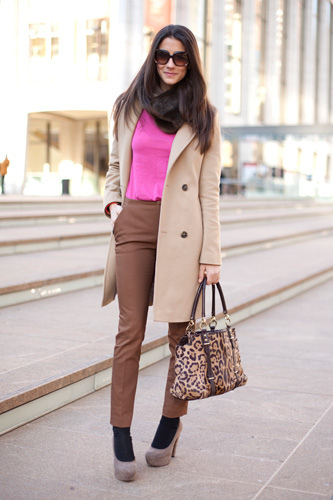 Photos: Mark Iantosca + Refinery 29 Coat: Ted Baker, Pants: Zara, Top: Zara, Bag: Coach, Shoes: Marni via TJ Maxx, Sunnies: Michael Kors, Scarf: Loft
Hey guys! I've been super busy running around as one does during fashion week. I'm working on a few new posts from some of the shows, especially from the Ecco Domani winners, that I'll have up tomorrow.  In the meantime, here's one of my outfits from the week so far.  Big thanks to Mark Iantosca for taking the shots!
Wearing something bright has definitely given me some much needed extra energy.  This pink color is like an instant face brightener.  I'm trying to make a conscious effort to transition out of the dark black and grey winter uniform and I'm hoping the warmer temps stick around so it makes it easier or else I will have to invest in a brightly colored winter coat!