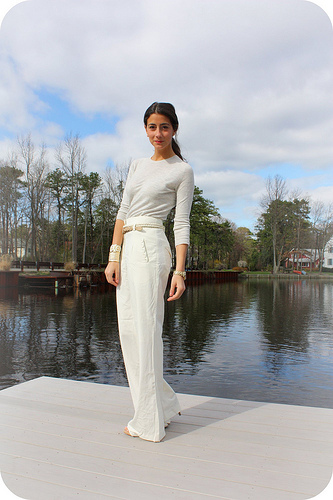 Creamy neutrals have crept back up into my wardrobe lately in an effort to invest in more classic pieces that will last. Plus, white and beige are popping up everywhere this Spring and it is so refreshing!
I was really lucky to snag these Phillip Lim pants at their sample sale a few seasons ago. They just drape so well on the body and remind me of a Greek column. I love this silhouette and I'm actually on the hunt for a maxi skirt that gives me the same shape and elongated length.
Wearing a monochromatic look makes you appear longer, which is why I added the white shoes. It's ok if the colors are all not exactly the same shade as long as you tie them all together with your accessories.
Here's to the beautiful weather that is coming our way this weekend!
xoxo,
SG