Being able to be backstage really changed my whole outlook on viewing a runway collection. It's really hard to attend a show and notice all of the details that make a garment unique. The models strut down the runway so fast and the celebrities in the front row are gawked at more than the collection itself. There can be so many distracting elements that you never really notice the tiny details that designers spend hours perfecting. When I chatted backstage with Cynthia Steffe's Creative Director, Shaun Kearney, I realized that the excitement lies within these tiny details and they really pull the collection and his inspiration together.
What inspired you to combine military and romantic. They seem to be quite opposite.
It all started when I was hanging out in Brooklyn. I saw this group of boys and girls hanging out and the guys had traditional dapper styles with crisp boy shirts, slouchy boy pants, and military boots. Girls had military jackets, romantic blouses, capes, socks and mary janes and for some reason they all looked so good together. They looked like they were all in cool school uniforms. That was the starting point. It reminded me of a hint of Sloane Street boys and Queens Road girls. Nothing too literal just hints of that late 60s.
Seems like you love getting inspired by historical time periods. Do you have a favorite?
I always love Victorian and Edwardian. Sounds cliche but when i think of eras I think of the late 60s early 70s where there were a lot of victorian influences in the clothes. You get much more of a cooler romantic vibe from that particular era. However, I prefer not to go too costumey though.
Your collection touches on a lot of different themes..do you feel like the Cynthia Steffe girl likes to switch it up?
That's the way girls dress today. It is much more about a modern mix up sensibility than head to toe dressing. If it is head to toe, then it is unexpected pairings.
Do you have any pre-fashion week rituals?
I don't think I'm ever prepared! You just gotta roll with it. Once you've got your vision and concept together it's almost like it's too late to go back. So try to really stay focused and stay true to your customer and your girl and your brand. I like to mix a lot of different emotion in the collection.. feminine, pretty, edgy..If something doesn't have that emotion then it shouldn't be there.
Thanks to Shaun for taking a few minutes to speak with me!
I thought it would be a good change of pace to not just show a few Style.com slides of what went down the runway, but to show the garments up close so we can appreciate them for what they really are. Hope you enjoy the images. All photos were taken by me and I'm quite proud of how well the details showed up! Cheers for the Canon Rebel!
This utilitarian fox fur hooded jacket was Shaun's favorite look and not coincidentally, the opening look.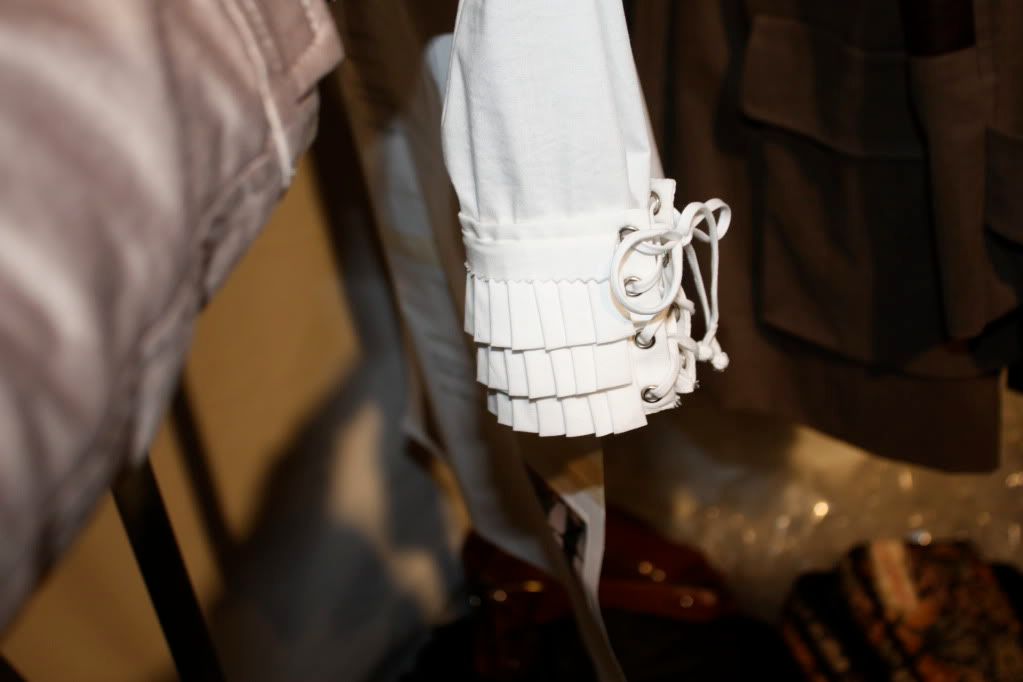 You can see some of the Victorian detailing in the sleeve that just barely peeked out of the jacket.
The Bumble & Bumble Stylists used clip on bangs for some of the models! So chic and they looked absolutely seamless. I will absolutely be trying this beauty trend out because I wouldn't dare try the real thing.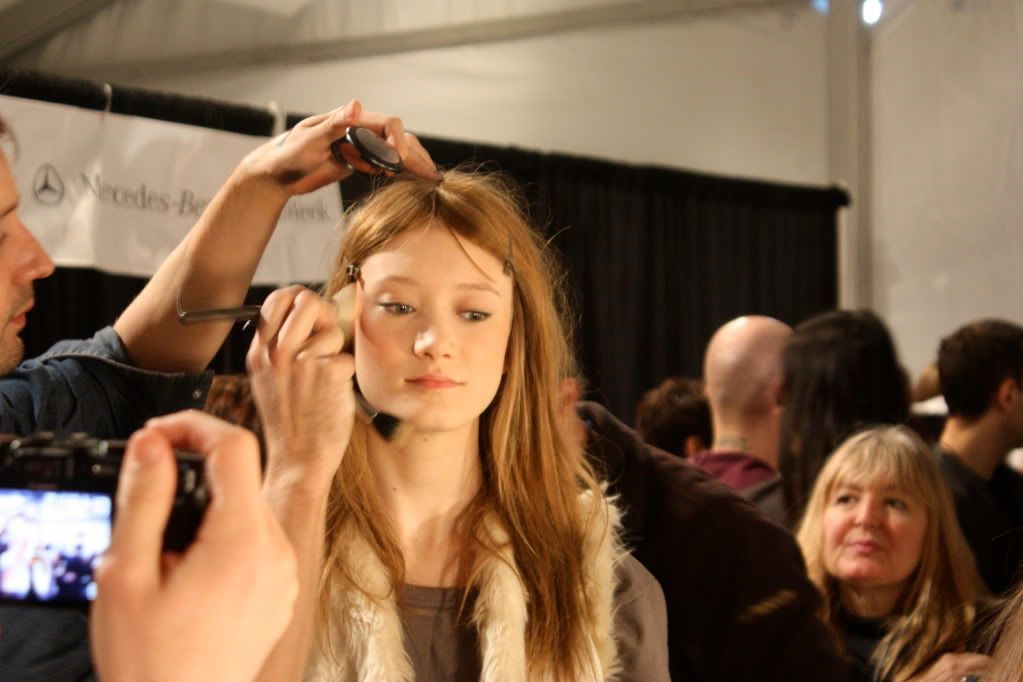 My absolute favorite piece in the whole collection was this faux fur jacket. I could just see myself wearing it day in and day out for years until I'm strolling through my own grey garden, 70 years old, like Edie Bouvier Beale.
The collection touched on so many cute elements: school girls with knee socks, 60's pleated minis, utilitarian sexy. I guarantee you will love it! To see the full collection check out
Style.com
.
xoxo,
SG