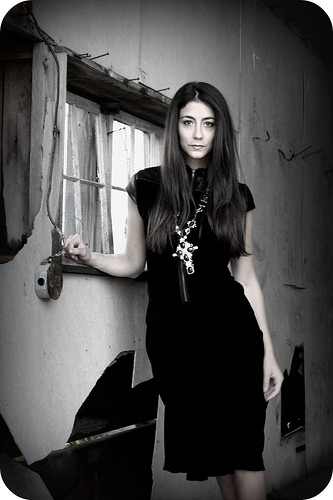 I'm so not edgy. In fact, I'm completely polar opposite to anything goth or vampire chic. I know that look is really in right now, but this is about as edgy as it gets for me. I sort of went for corpse bride, but I feel like this looks more like a screenshot from an old Sicilian Dolce and Gabbana-esque movie.
This is one of my favorite shoots because that fear in my eyes in the last image is actually real.. we kept hearing weird sounds while we were shooting at an abandoned building.
This velvet and leather Cynthia Steffe dress is from their sample sale last week. It was $20. I am such a Cynthia Steffe girl. Even when I try some edge, I still retain some femininity so I pretty much stock up on a new wardrobe each sample sale they have because I can't get enough.
I've shopped many sample sales in my day so here are some tips:
1. Go knowing what you need and want in your wardrobe. It is a great time to stock up on some things that you've always wanted, but never actually buy
2. Wear a pair of underwear that you don't mind other people seeing. You should try things on since sample sizes vary and there are never changing rooms
3. Grab it even if you are indecisive. You can always subtract and chances are that item that you sorta loved will be gone if you leave it
4. Don't worry about finding the perfect fit. Because you are spending less on the item, you can spend more to get it tailored to fit your body
Happy deal hunting!
xoxo,
SG