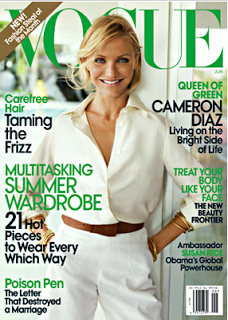 Green has popped up on mag covers for June, surprisingly as green is usually not reserved for the cover due to its difficulty to color correct.  Vogue's cover rocks the color with Cameron Diaz, not only because Cam brings in the green with every film she stars in, but the glossie focuses on organic designers and themes.
Ms. Diaz breathes life into the organic pieces.  Upon first glance, you would never know that these clothes are recycled, free of pesticides, and saving the planet one thread at a time.  Is this finally catching on??  Its been how long since Al Gore launched his documentary and we waited 8 long years for a President to finally focus on the environment.  
LVMH has taken notice of the sensitivity to the environmental issues at hand.   They just took a small stake in organic line Edun (begun by Bono and wife) to compete with rival PPR who, according to
WWD
, is launching an Eco movie called "Home".   A little healthy competition could be the catalyst to push the issue.  Now, maybe Susan Rice can talk Michelle in wearing an organic outfit to her next appearance.  
xoxo,
SG