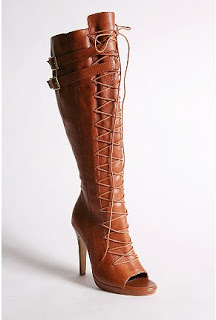 Why do I get the feeling that I will be wearing lace up boots all fall/winter?  Maybe because I just purchased these brown boots (top left) from Urban Outfitters.  And thanks to Topshop's Tweet today, I
found
these black ankle boots (top right).  I love that the boots are open toe because part of my issue with boots sometimes is the toe is either too pointy or too round etc but both of these eliminate that issue entirely.  Plus, both of these shoes are under $200 dollars which makes me really really hope that someone does over-the-knee boots as well as these lace ups are done for that price.
The black boots haven't hit stores yet but keep your eyes open for them on the topshop.com website.
The brown tall boots are part of Jane Aldridge from the blog Sea of Shoes and are available now for pre-order but they are back ordered already!  
xoxo,
SG