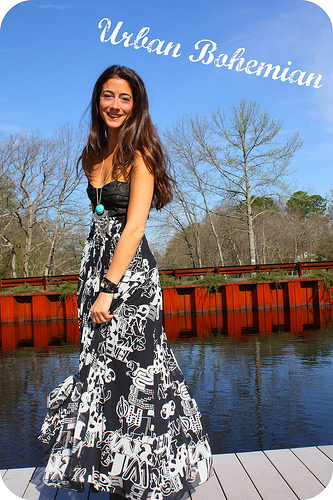 If there is one thing I am completely obsessed with at the moment it's maxi skirts. I've been searching everywhere for them, but not just for any long skirts. For me this summer, the long skirts won't look prairie, but modern and sleek. It is almost a modern take on bohemian.
I love that the print of this skirt is contemporary.. It has a cool graphic feel to it and the high waisted shape begs for a bustier top. I found this top at a Cynthia Steffe sample sale for $10!
I'm also getting back into silver jewelry and I honestly thought I was a gold girl through and through. The pop of turquoise breaks up the black and white and I love the Native American influence.
Also, I must mention this cardigan from
Boy Meets Girl
. I met with Stacy a few nights ago for dinner and drinks and she is so fantastic. She was nice enough to mention SG in an interview with
Ideeli
today
!
Check out the interview
HERE
.
We have some really amazing plans coming up so stay tuned for that! The cardi is so perfect for Spring/Summer.. it is really light weight and has cute elbow patches... I love it!
xoxo,
SG