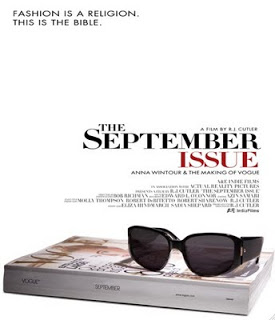 It's raining and that sucks but the only bright side to the day is The September Issue is premiering today in NY and LA!  So what else would you want to do on a rainy day anyway other then watch editors get their ideas ripped apart and see $100K shoots get killed by Anna?
 The golf apparel market may single handedly save Japan.  I just died over this golf glove!  With an influx of successful female Japanese pro golfers, girls are flocking to the courses and retailers and designers are seeing a massive increase in sales of cute golf gear.  I'm so dressing like that next round!  (WWD)
The New York Times just profiled MK  and Ashley Olsen and their clothing lines (Elizabeth and James and The Row) calling them "unlikely designers".   I feel quite the opposite.  Judging by how these girls dress and the amount of designer and vintage stuff crammed into their massive closets, these girls would be the first girls I would go to to design a line.  Regardless, they've won over the tough hearts of Bergdorf Goodman and Barney's who call their lines "perfect" and "perfect", respectively.  Enough said.  Read the full article HERE
Will Zack and Kelly walk down the runway at Alexander Wang's show?!  No, sadly, but the boy wonder did find inspiration from the 90's TV show.  Feeling that Marc and Tom Ford always took inspiration from the 70s, it is only natural that Alex would reflect on his era.  So will we be seeing Slater's baggy pants and light denim jackets come down for Spring '10?  
Happy Friday!