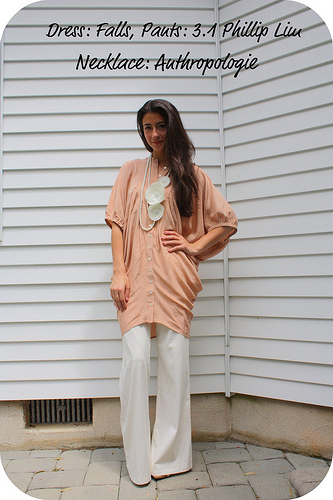 "Creativity is inventing, experimenting, growing, taking risks, breaking rules, making mistakes, and having fun."
This isn't something I would normally think to throw together, but I'm always up for experimenting with different shapes. A few weeks back the designers behind Falls invited me for a sneak preview of their sample sale, which was not only amazing because I got to go early, but also because I got to try on the garments with the designers in the room.
It sort of felt like a mini personal styling session. When I put on this dress over these pants (to keep things PG in the room) we sort of all looked at each other and thought...wait a minute, that looks kinda cool!
I've said a million times recently that I'm into the super drapey, flying squirrel kinda look so this dress immediately caught my eye... There is something about this combo with the long strand pearls that reminds me of the roaring 20's.
It also poses the question: Can you or would you pair a dress over wide-leg trousers?
xoxo,
SG