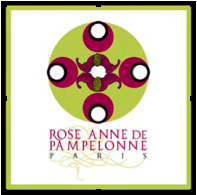 The presence of true craftsmanship in design sometimes gets lost today in Asian factories and mass production lines.  Designer and French It-girl Rose Anne De Pampelonne's namesake line of  apparel and jewelry might be the furthest you can get from that.  Deep in the Himalayas, skilled artisans in Nepal work meticulously on her one of a kind ornate pieces.  Her skills as an  accomplished interior designer have given her a unique perspective on detail and decor of her designs.  She adopts a philosophy that her clients jet-set so often that who wants to lug around heavy jewelry to jazz up their clothes?  So she eliminated the need to do so by incorporating beautiful beading and stone work on the clothing.  What sets her apart from the rest of designers who are heavy on embellishment is the hand sewn, unique cultural technique, which is unlike anything around.
Don't believe that these garments can be so perfect without the use of a machine?  Check out
this
video!  So inspiring and a gorgeous reminder that true artisanship has not disappeared.  I have been dying to take a trip over to Nepal and Bhutan and this may just be the push I needed to make this next on my destination list!
Another factoid:  Rose Anne sells to Ikram boutique in Chicago.. could we see Michelle Obama rocking one of her fabulous creations?
For more information, visit Rose Anne's website www.roseannedepampelonne.com
xoxo,
SG