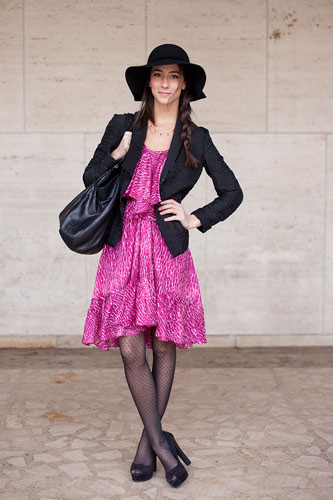 Dress: Cynthia Steffe, Jacket: Ports 1961, Tights: Club Monaco, Bag: Coach, Hat: Jessica Simpson Photos via Refinery 29
When I went in to preview the Cynthia Steffe collection Shaun thought I should wear this dress to the show because it was super bright and springy.  At the moment I had a whole stack of black things in my hands and quickly realized that no one knows better than the designer himself.  I have to admit that at first I didn't know which way to go with it.  Clearly I decided to pair it with black and let this pretty color really pop and then brought out the flowy bohemian vibe with a floppy hat.  I'm so glad I decided on it because color was in abundance all over the streets this fashion week and it was SO refreshing.
But let me say that I can't wait to throw on something bright yellow with this and bask in the warmth somewhere near a beach.  This season it is all about taking risks with color and I am up for the challenge.
It is supposed to be 70 degrees tomorrow so I'm getting far away from New York and fashion week and heading home to spend the day in Philadelphia tomorrow.  Can't wait!  And I will resume posting normal series of outfit pics this weekend.. The week was just too crazy to photograph a ton so sorry for the smaller pics. xx