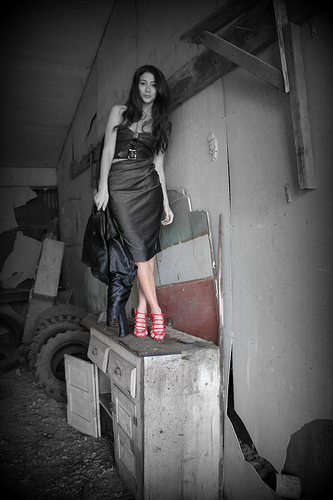 Some people are born with an old soul, some a young soul, but me? I was born with a red soul.. a red sole to be correct. You see, Christian Louboutins are my weakness. I've never smoked, done any type of drug, so I consider these shoes the only vice that I have and though they look pretty harmless, these babies can pack a major punch to da wallet. Lucky for all red sole lovers across the country we can now get discounted Loubs up to 80 percent off.. How you ask?
About a month ago I took part in a shoot at the
Cooper Square Hotel
in NY for a new sample sale site called
Envite
. The brand spanking new sample sale site featuring designer merchandise for up to 80% off is launching this week and their first sale is CL. So my good friend Stacy Igel rounded up some rockin entrepreneurial women to kick off the site.
Shout out to the other fantastic women involved in the shoot:
Tara Smith- Celebrity Hairstylist (who just launched an eco friendly hair care line at Duane Reade)
Zoe Bell - Actress and Stuntwoman (she did the stunts for Uma in Kill Bill!)
Stacy M. Igel- Fashion Designer, Personality, and all around amazing
Ami Ankin- Producer (Her movie The Living Wake just hit theaters)
Samara D'Auria - Senior Fashion Director for Life & Style Magazine
Some behind the scenes shots and coverage in this week's US Weekly!
And because I love you I have a special VIP invite code! Use Lindsey19 to sign up!
I'll be sure to let you know when the sale goes live along with the blog post and shoot that we did!
*Also thanks to Photographer Sari Wynne
xoxo,
SG