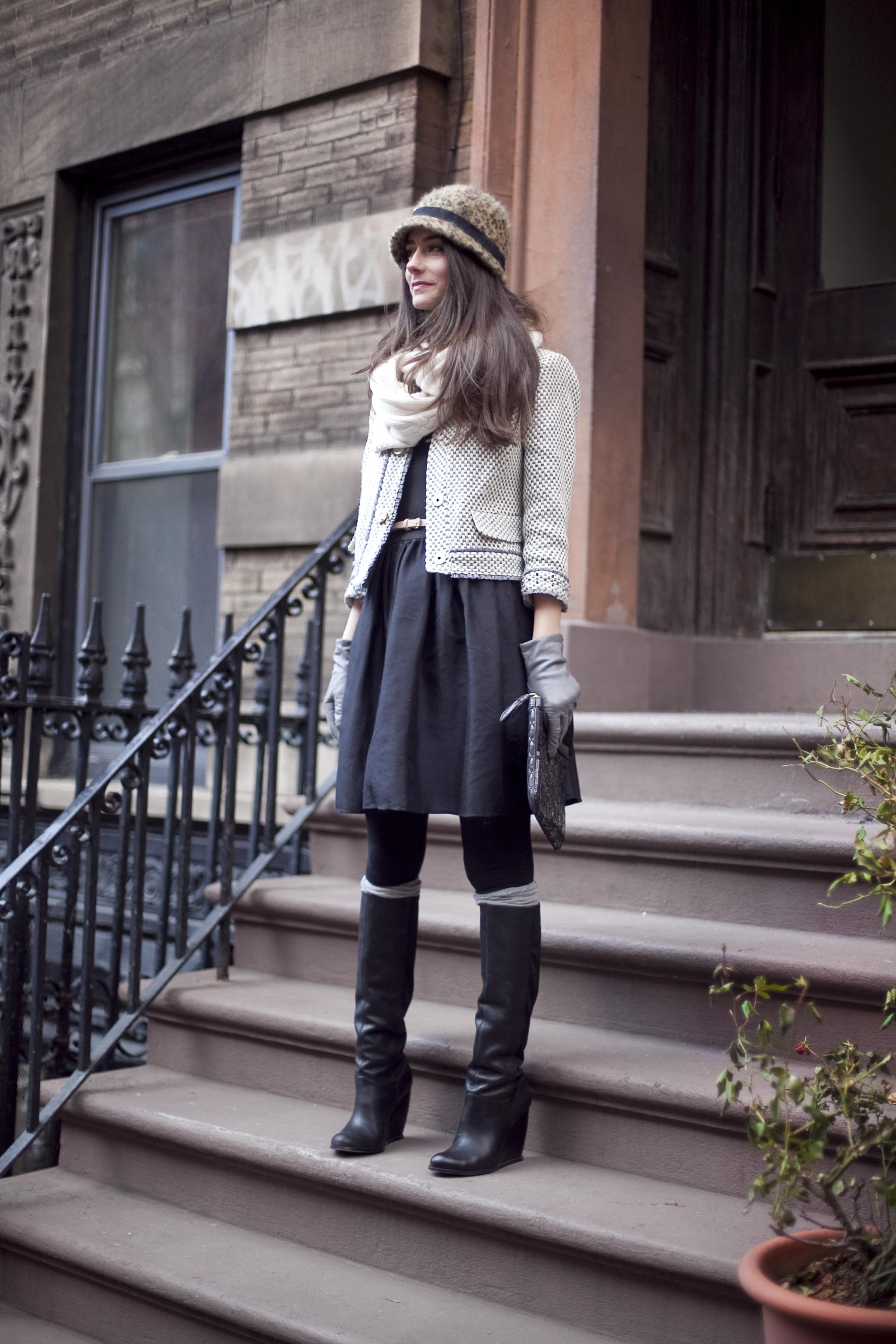 Hat: Jessica Simpson, Jacket & Bag: c/o Juicy Couture, Gloves: Henri Bendel, Dress: Corey Lynn Calter, Tights/Socks/Belt: J.Crew, Boots: c/o Seychelles, Snood: Macy's Photos: Altamira
Hello, winter!!  Back to layering up and trying not to freeze!  Every year I get so unexcited to buy winter clothes so I don't... until I realize that I do need to clothe myself so I buy a few things here and there but I would say my winter wardrobe is far from ideal.  It is a work in progress and I always find that adding more accessories is the key to a chic winter.
Here are some of my must-haves... nothing groundbreaking but always good to reevaluate.
A snood: This could be the best winter accessory ever invented.  It keeps me a lot warmer than any other scarf I've tried and isn't fussy.  Once you put it on it stays put allowing no air to get in and no retying around your neck constantly.
Wedge boots:  For cold weather city living they are a must-have.  Slippery sidewalks makes wearing heels a lot harder and wedges are sturdy and comfortable for walking.. I love these because they are a great basic to build off of and have a lot of give to them for comfort (I hate stiff boots!)  Seychelles has an amazing selection of boots and they are really soft and well-made for a really great price.
A chic hat: You all know by now my obsession with hats and in the winter they are especially handy.  This one is great because it is warm and fuzzy but still has a cute design to it.  The key to pulling off a hat is knowing your face shape.  It's like getting a haircut... Don't force something if it doesn't work with your features... a good hat should play up your attributes
Socks:  I stock up on socks and tights from J Crew every winter.  They have such a great selection and they last long as well.  I've spent money on expensive hosiery before and never found it worthwhile.  I love letting the socks peek out of my boots and I love that they stretch my open toe shoes into winter.
Now that everyone's attention is onto spring, I try to only bring things into my wardrobe that I can wear into the next season.  This jacket is the perfect example because I can layer it now but the colors are soft enough to transition with lighter fabrics.  Plus, I think that anything ladylike will always (and should) last in your closet!
*Thanks so much to one of my fave Spanish bloggers, Rebel Attitude, for the super sweet feature!  Check it out HERE
*And one last thing!  Tomorrow I'm debuting my first outfit post for Stylesip so hope on over tomorrow to check it out! www.stylesip.com