When I get the luxury of being home for long stretches I find a lot of inspiration by bringing nature around the house and trying to fall into good routines. After a few spring/summers of trying to get my balcony flowers to withstand the brutal tropical climate I finally think I've somewhat succeeded in figuring out what works. The vibrant Hibiscus has become my MVP (most valuable plant). It's perfect for the tropics and just looks so, so pretty on a balcony. It's also been showing up in a lot of my beauty products and sparked my curiosity to see how I can fully incorporate more of this beautiful flower into my life, inside and outside!
I thought it would be fun to challenge myself to incorporate hibiscus in a homemade skin exfoliator and also in a daily smoothie. This sounds complicated but it's actually incredibly easy to create with just a few pieces of kitchen equipment. I browsed Kohl's wellness section and found both, all in one machine. I've used Ninja products before but I only had the smoothie adapters. This Nutri Ninja Nutri Bowl Duo comes with both on-the-go smoothie blender cups AND a food processor attachment. The coffee grinder comes separately but is really inexpensive and completely compatible with the Ninja Duo. So, for under $200 I have one product that can make anything from smoothies, dough, salsas, fresh coffee and beauty products. Pretty legit!
Hibiscus & Rose Facial Polish
The base of this is actually crushed brown rice. When brown rice takes a powdered form it acts as a light manual exfoliator. I know this works well for my skin because I keep coming back to the products that have this in it and it's light enough for me to exfoliate with every other day or so. I decided to add dried hibiscus and rose for their amazing skin boosting benefits. There's a rumor that hibiscus is known for being the "botox" plant for its ability to improve the skin's elasticity. I have to make sure to say that this works for my skin and I would advise you patch test to make sure your skin can tolerate the ingredients. Just because it's natural doesn't mean you can't get a reaction! Please use caution before attempting.
Step by Step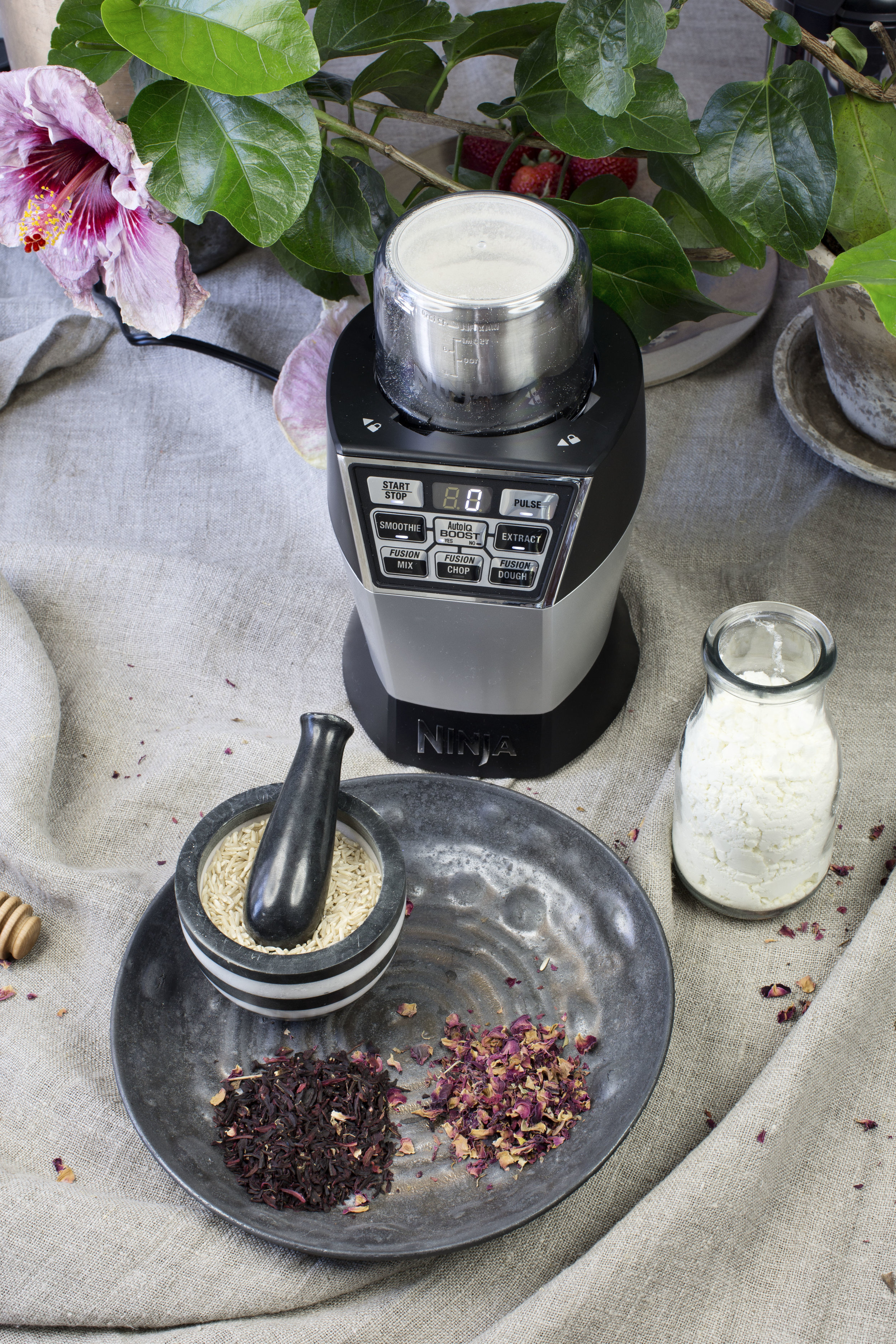 - Brown rice
- Dried hibiscus
- Dried rose petals
- Dried goat milk or clay
Grind the brown rice in the coffee grinder. I like to go about 2 tablespoons at a time until the rice is a soft, velvety powder.

Add a sprinkle of dried hibiscus flowers. A little goes a long way here.

Add a sprinkle of dried rose petals

Optional: I also added powdered goat milk to this to gain some benefits from the lactic acid. You can also use heilmoor clay or kanolin clay as well! I might switch clay in for the goat milk next time bc my skin tingled a tiny bit and the clay feels more soothing.

I would stick with a large percentage of your exfoliator being from the brown rice at first until you know your skin's sensitivity.

Combine all ingredients in coffee grinder and blend together. This creates a beautiful pink color.

To test, pour about a dime or nickel size of the powder in your hands and add a touch of water. Scrub gently for a few seconds and wash off. The hibiscus will release some color but it will come off with the water. My skin tingled a tiny bit so if you find it's too much, cut back on the flowers and other acid based ingredients and focus on just the exfoliator grain.
Hibiscus & Berry Acai Smoothie
This is so refreshing! It's so hot here in New Orleans already and I really love to make something creamy and cold to snack on or have post-yoga. The hibiscus adds a really beautiful pink color to the mixture.
Step by Step
Make sure to have some frozen bananas on-hand. Prep this the night before if you don't
Powder the dried hibiscus flowers in the coffee grinder. A little goes a long way here as well so about a teaspoon should do it.
Combine 1 frozen banana, raspberries, strawberries, frozen acai and a spoon full of almond/cashew/peanut butter into the smoothie cup.
Add about a ¼ cup of almond milk (or whichever milk you desire)
Add in about a half a teaspoon of hibiscus powder
Blend until you reach the desired thickness. This Ninja is SO good with smoothies! This is the most powerful one I've found. It kicked my original one to the curb pretty quickly.
Keep adding milk for thinner consistency. I like mine to feel like ice cream so the thicker the better for me.
Pour into a cup or a bowl. I like to decorate mine with fruit and some cacao nibs. I also drizzled some peanut butter on top as well. To do this, add hot water and honey to the nut butter and stir until it's thin enough to drizzle but still creamy.
Enjoy! I would suggest sourcing hibiscus or any dried edible flower from a reputable organic source. You can also use hibiscus tea as well here!
Dress: Tek Gear
Equipment: Nutri Ninja