Since leaving New York City I've started to look at trips back into the city with anxiety and trepidation. The extremes of the city have started feeling overwhelming. I wonder now how I didn't pick up on how that affected my body and mind while I lived there but going back with a more relaxed attitude has made me even more sensitive to the pace, the buzz and the abrasiveness. I decided to channel that negative energy into something positive and keep my eyes open for the calm within the chaos. For every trip back up to the city I take, I will look at the city with a fresh perspective of calm and positivity.
So while everyone was franticly running between fashion shows and fancy parties, I took myself far on the opposite side of the spectrum to surround myself with something calm, and to learn about and experience a treatment that helps with that anxiety in one of the most beautiful places I've ever laid eyes on in NY.
It's interesting timing, really, as Donna Karan has recently stepped down to focus solely on Urban Zen, a foundation focused on integrating eastern healing techniques to coincide with western medical treatment. While her late husband was battling cancer Donna realized that medicine was treating the disease but there was nothing to help treat the patient. Through yoga therapy, Reiki, essential oil therapy, nutrition and contemplative care the UZIT (Urban Zen Integrative Therapy) program was born. The program is designed to treat the PANIC symptoms of illness which are Panic, Anxiety, Nausea, Insomnia, and Constipation and trains healthcare workers and yoga therapists to help implement the practice in hospitals, outpatient care centers and support groups. It's an incredible undertaking and is a huge step towards recognizing the value of holistic healing and treatments in western medical practices.
So here I find myself at the center of Urban Zen in their Tribeca Loft that is truly a center of peace and tranquility in the chaotic city. A few moments spent lounging on the gorgeous Urban Zen furniture, admiring just how perfectly the light is filtered through the windows, and I immediately felt more at ease. I met with an UZIT practitioner named Gillian who was eager to demo a treatment session so I can learn first hand about their work and also help me with some of my own struggles with anxiety.
We had an initial conversation about the program and also about what physical and mental symptoms I felt through anxiety which led to talks about night terrors and moments of panic. A lot of her work happens in hospitals with people who are very ill but the basic principals of the therapy can be applied to anyone, anywhere who struggles with any issue big or small. She began the treatment with essential oils, choosing lavender and peppermint meant to relax and energize/ground me, respectively. When she mentions yoga as part of the therapy it's not a competition of extreme poses but more focused on the connection between movement and breath. Simple movements like spinal twists and flexing the feet and toes with connection to breath can energize and revitalize the body and mind.
Next, she had me lay on the couch and used Reiki to do a full body scan from head to toe, asking me to focus on certain parts of the body in my mind and release places that had tension. The more I focused on sending breath and energy to those places, an instant feeling of relaxation came over each spot. She finished this with another round of peppermint aroma therapy so that I didn't get too relaxed mid-day and also because with anxiety, you can sometimes feel like you're up in the air and can't focus on anything so the peppermint grounds you back down to yourself.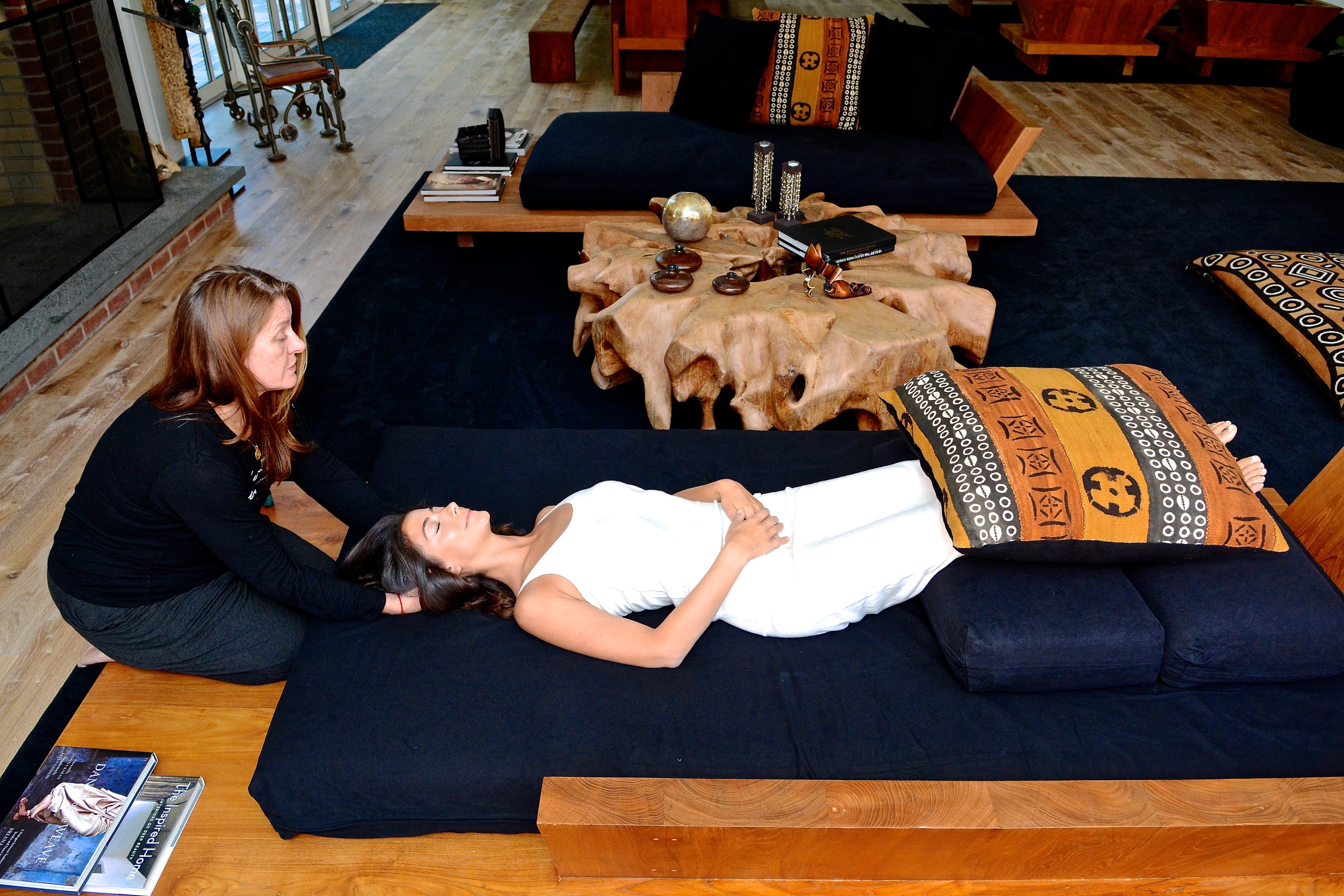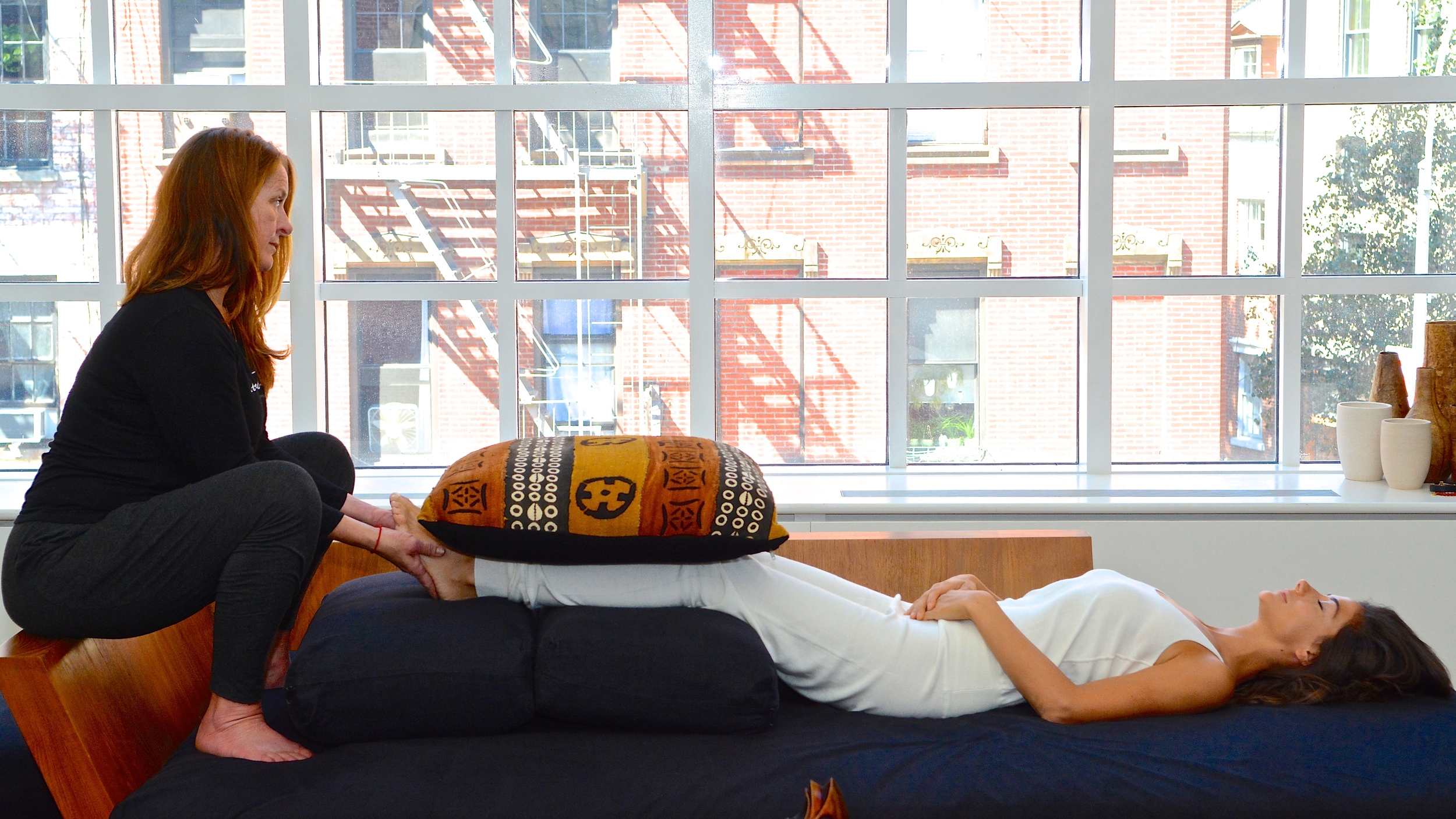 The effects of the treatment for me were both immediate and lasted throughout the next few days. I was much more positive minded which led to better energy and productivity. In fact, this is what UZIT is seeing with patients in hospitals or hospice care that are feeling the extremes of illness and surgery, that when given the therapy program, even over pain medication, they are seeing a reduction in pain levels on the pain scale and also decreased anxiety and stress. Thankfully I've never dealt with any extreme illness and hospital stays but I've had family members go through stints in hospitals where this type of treatment would have really been beneficial even after they left the hospital. It's a beautiful foundation that I wanted to share a little bit about. What first caught my eye was the beautiful aesthetic of the Urban Zen clothing, that has this gorgeous simplicity, but when I learned more about the foundation I was really blown away. I'm excited to see what the future holds for every facet of this brand and foundation.
I think this need for community is greater than ever even though we are more connected than ever. The internet can be overwhelming with unreal expectations and standards of perfection that we forget that there's outward and inward suffering out there and the need for everyone to come together to heal as holistically as possible is ever present. Do keep this in mind for anyone that you think could benefit from this program. The foundation works to secure partners, donors and grants to fund costs of the therapy in hospitals and care centers which is truly remarkable. If you happen to be in the medical profession, you can also be trained by the foundation. There's also an amazing story behind Colleen Saidman Yee, who is heavily involved with Urban Zen and has an amazing book that I just started diving into a few months back about yoga and the journey to inner peace. It's definitely worth a read if you are looking to be inspired! If you're looking for more info, click here or send me an email and I can try to connect you directly with someone who can help.